The death of Davy Jones on February 29th, 2012 really hit me hard…
The Monkees were my first FAVORITE anything!  I loved the guys, the show, the music, the car!  I even wanted to be a Monkee, often signing my name Mike Nesmith, (and confusing the hell out of my second grade math teacher!)
It's not like he was a member of my family, and I never even met him.  However, he and the band were so much a part of my life for so many years, it was like a family member had passed…!
I was told about his death by my wife, and it didn't register at first.  But as I started to think of it, I was really upset!  Here was a special part of my youth that was gone forever.
I still have a special playlist on my iTunes that has every Monkees song that I've been able to get, including Davy's solo song, GIRL, known from The Brady Bunch!
 And, I still have too many VHS' with all the Monkees episodes, recorded during the first marathon showing on MTV in 1986!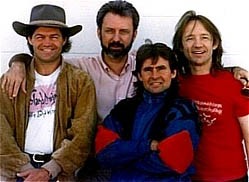 So, I guess I will always still be "Davy Jones' Number One Fan"!
Tiberius